Polygyros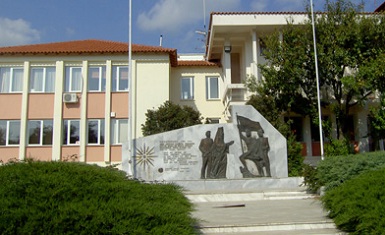 Polygyros, the capital of Chalkidiki, is located only 67 km from Thessaloniki and 587 km from Athens.

Its houses spread out amphi-theatrically on the slopes of Mount Profiti Ilias.

The surrounding area is very fertile, full of vineyards, olive groves, and fruit trees.


There are a number of opinions concerning the initial location of Polygyros and the date of it's founding. According to the local people, the initial city was founded at the location "Selio" southernly by Polygyros and it was transferred to its current location for safety. Margaritis Dimitsas, Hellenist and archeologist, mentions in his book "Ancient Geography of Macedonia" that Apollonia Chalkidiki was at the exact location where is now Polygyros. Apollonia Chalkidiki was one of the biggest cities of ancient Chalkidiki. It was founded by the Vottieous the distruction of Olynthos by the Iranians.


The name Polygyros was mentioned for the first time in the 11th century, when it was dependent on the monastery of Iviri at Mount Athos. During the Turkish domination, it enjoyed great prosperity.

In the present town, with its 5,000 residents, the Archaeological Museum and some of its traditional neighbourhoods are worth visiting.

All the public service offices of Chalkidiki are also in Polygyros.