Karyes
The small town of Karyes, in roughly the centre of the sacred peninsula, has a plan corresponding to that of idiorrhythmic scete, and acts as the seat of the Protos (primate), the spiritual leader of the monasteries, who is chosen for life from amongst the body of abbots (hegoumenoi).

The town followed the fluctuations of the authority of the president of the Athonite State and found itself sometimes confronted with the power acquired by the three large monasteries - the Great Lavra, Vatopedi and Karyes - and at other times strengthened by imperial chrysobulls and patriarchal sigils. It is home to monuments of outstanding importance for ecclesiastical art (Church of Protaton, dating from the first half of the l0th century, and dedicated to the Dormition of the Virgin, painted by Emmanuel Panselinos at the beginning of the l4th century A.D.) and also a great number of portable vessels and objects of worship (miracle-working icon of 'Axion Estin').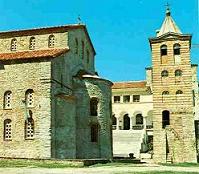 Karyes is the headquarters not only of the Protos and the Sacred Community but also of the civil governor of Mount Athos, who is attached to the Ministry of the Exterior.